Last weekend, my son & I went and saw The Trolls movie. To be honest, I thought this was going to be a huge letdown. If you're an 80's kid and older, you know about the original Trolls. With the ugly cute faces, little potbellies (some bejeweled), and THAT HAIR!
oh, and that they're nekkid. Don't forget nekkid!
We "old folk" have been trying so hard to cling-on to the last vestiges of our generations but people keep revamping our favorite shows & books from our childhood! Most of them failed hard and ruined it.
Effing RUINED IT!
So now you understand why TROLLS made me a little nervous. To be completely candid, I didn't even want to go see the movie as an attempt to preserve my fond memories about these guys. My mom even had a large stuffed Troll doll who wore a cute set of light blue overalls.
Luke, on the other hand, has never been introduced to the original troll dolls so his discovery of Trolls WAS the movie, thanks to the McDonald's toys based on the movie.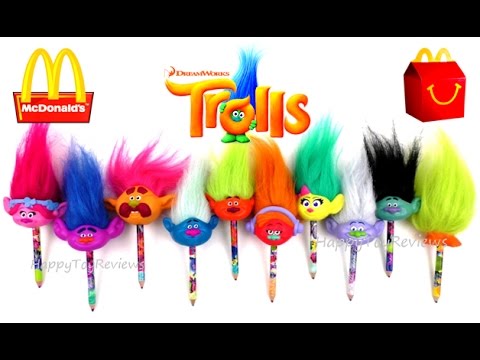 Because of these (Luke has Poppy & DJ), Luke now wanted to see the movie. It was at this point, I sucked it up and took him for doing good that week of school.
BOY was I PLEASANTLY SURPRISED! I went into this movie with no great expectations and came out slightly nerding out! The story revolves around Princess Poppy & Branch on a rescue mission to save their friends from the unhappy Bergans. When they reach the castle, the come across a forlorn Scullery made named Bridget. They decide to help her and everything goes from there!
This movie isn't fun just because of the story-line. Oh no. This movie is fun because of the MUSIC! The music incorporates music from quite a few eras revamped into something fun to sing along with. This also incorporates a few original tunes just for the movie. For me, the greatest part about this whole movie is Justin Timberlake as the Male Lead Protagonist, Branch. I had no IDEA he was in this movie but his voice was one I just kept saying to myself "I KNOW that voice? Who is that?" Even when he did let his voice loose in the movie, I kept saying "Where do I KNOW this guy?!" It wasn't until the credits rolled and announced Good Ol' JT, I was finally like "NO FREAKING WAY!" As a matter of fact, this whole PRODUCTION was a "Who's Who?" of celebrities!
If you want to see the full cast list, click the IMDB page here...
The Cast of Trolls
I HIGHLY recommend this movie not necessarily for the story, but for the music and vocal who's who. This was visually entertaining in how the characters were developed, humor, and above all else, THE MUSIC! I've already downloaded the Soundtrack, I now await the movie release to Blu-Ray!